CranioSacral Therapy
CranioSacral therapy is a non-invasive, but hands-on, healing modality. During this therapy, you relax, fully clothed, on a massage table while the therapist uses a light touch, about the weight of a nickel, to hold points of tension. This allows the release of tense muscles, enables proper structural alignment, and aids the nervous system in achieving balance.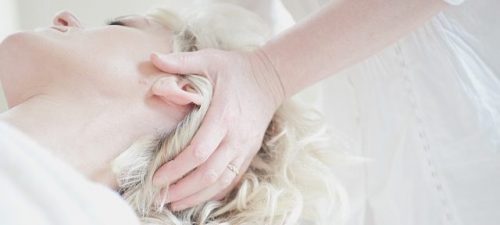 What is CranioSacral Therapy?
Pioneered by Osteopathic Physician John E. Upledger, professor of biomechanics at Michigan State University, CranioSacral Therapy is a simple approach for achieving structural and systemic balance using soft touch held on points of tension along the sacrum, spine and the cranium.
What is CranioSacral Therapy Used For?
The brain and spinal cord are the main pathways for all body functions. By reducing tension in this area, a wide range of symptoms can be addressed.
CranioSacral Therapy may reduce the symptoms of:
Headaches/Migraines
Lower Back Pain
Acute Pain
Attention Deficit Disorder
Dyslexia
Morning Sickness
Short-Term Memory Loss
Post-Traumatic Stress Disorder
Numbness in Hands/Feet
Autism
Lazy Eye
CranioSacral Therapy in Mount Pleasant, MI
Relax while the professional massage therapists at Herbs Etc help you relax and heal during your CranioSacral therapy session. Craniosacral therapy sessions include no forceful manipulation of muscle or bone nor does it involve chiropractic work. This gentle therapy helps restore balance and natural rhythm in your nervous system through gentle activation of tense areas along the sacrum, spine and cranium.
CranioSacral Therapy Cost:
120 Min: $114 | 90 Min: $94 | 60 Min: $64 | 30 Min: $44